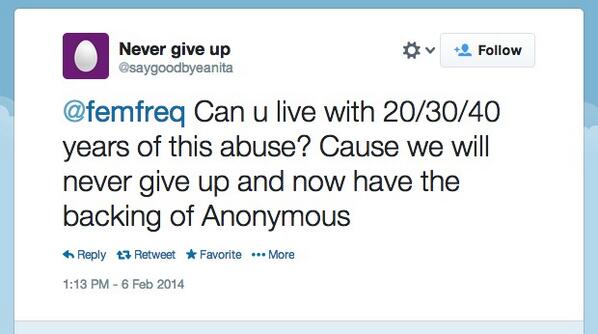 Let me tell you a little story. Actually, let me tell you a few of them.
Let me tell you a little about Jennifer Hepler. She was a writer for BioWare, a gaming company known best for their Star Wars, Dragon Age, and Mass Effect franchises. She wrote some very popular characters, but one day she made the catastrophic mistake of creating a Twitter account. Within just a few days, trolls had dug up a quote of hers from years before about the direction of gaming (most notably that games would probably adopt a "story" mode for players who were playing for the narrative rather than the combat) and had declared war on her. They targeted not just her Twitter, but her personal life. If you want to see even just a fraction of the abuse she was subjected to in those few days, check out this entry for her at Encyclopedia Dramatica, where the trolls continue to take their pot-shots. (I recommend you take anti-nausea medication before you do so.)
Then, right on the heels of the Jennifer Hepler harassment, there was another major incident in gaming circles.
Now, understand that I don't even know the whole of it, only what I've read in articles and blog posts. I would really love to sit down with Anita Sarkeesian and talk about it someday. If you're a woman on the internet, particularly a woman in "male-dominated" communities like sci-fi and gaming, this woman is a hero and you need to be aware of her. She's on the front lines fighting the fight so we don't have to.
Anita Sarkeesian runs a website called Feminist Frequency, which is dedicated to analyzing the representation of women in pop culture. Instead of telling you what happened when she took on a project dealing with the portrayal of women in video games, I'll let Anita do it in her own words:
The TED-talk in the video was over a year ago. The harassment it details was nearly two years ago. Now look at the date on that tweet at the top of this post.
It's still going on. (Though Anonymous has disavowed any involvement.)
"Every day I'm encouraged by the women who persevere, who continue to engage, and who refuse to be silenced." — Anita Sarkeesian
This. So much this.
Some of you may know I hang out on Tumblr pretty regularly, and I follow a number of feminist blogs there, particularly http://fandomsandfeminism.tumblr.com/. So every day on my dash, I see dozens of messages from the person running that blog, dealing with not only sexism, but minority representation, homophobia, transmisogyny, and racial issues. A lot of those messages are asks–messages sent directly to the blow owner–that are very hostile, and I don't know if she responds to them all, but I know she responds to a lot of them. Enough so that I'm exhausted watching her do it.
I honestly don't know how every day, she and Anita Sarkeesian go back out there and take on the fight. I'm not sure I could do it. I'd like to think I could, but realistically? I think I would get too weary and disheartened.
Homophobia is another issue in online gaming spaces, though I admit I'm not as conversant on the subject. But take a look at this video:
The tenor of homophobic harassment in gaming seems to be different, but it's still quite toxic.
What's the point to this?
About a year ago I decided I wanted to pay some tribute and shine a spotlight on these issues in a book I was writing. The book is called Third Wave, and it's an honest-to-God whodunit, a mystery who's main characters are a pair of gay twin brothers and their female boss at a video game production company called Third Wave Studios. The boss, Rosena, is a bit of an amalgamation of all the women I've mentioned above, dealing with the same sort of harassment as she attempts to run a studio dedicated to creating video game titles which are not only successful, but also present positive and non-stereotyped LGBT, POC, and female heroes. One of the twins is the lead writer on the studio's most controversial franchise (controversial because of its LGBT characters and content) and the story deals heavily with the battles they face.
I'm almost at the end of writing the story, then I need to go through and make some revisions because the plot took a few turns that I need to account for earlier in the story. But I really want to present this story as a sort of homage to the people on the front lines of the battle of gendered and homophobic harassment in online gaming spaces, do my part, however small, to spread awareness of what is going on in the underbelly of our pop culture.
But this post isn't to pimp my WIP. It's about the people I've mentioned here, the ones who wake up every day and fight the fight I don't know if I'd had the guts to. Read the links. Watch the videos. And just…be aware. Know that this is going on, even if it's not happening in your line of sight, and that if you're not in the middle of it, it's almost certainly far, far worse than you assume it is.